Custom Spas and Swimming Pool Construction
Before we begin any new spa or pool construction, there must be a phase of planning and preparation. We meet with clients to discuss their vision and goals, keeping in mind the structures needed to accomplish the design. Read below to learn about choosing the right components for your new pool or spa design and what our procedure is.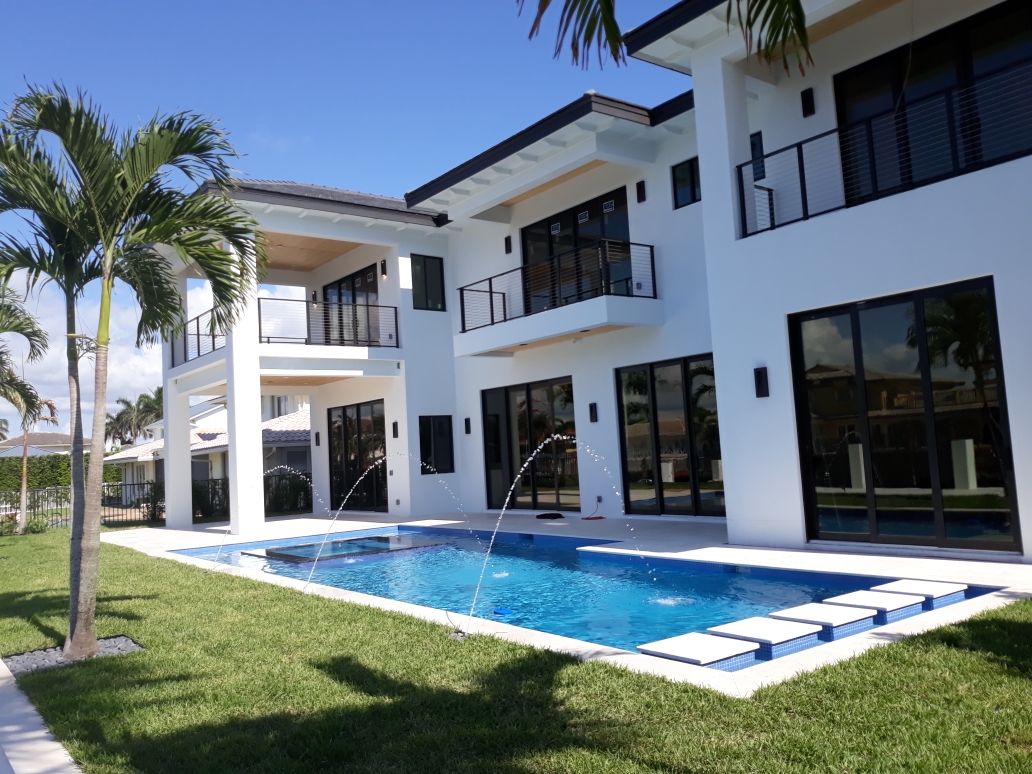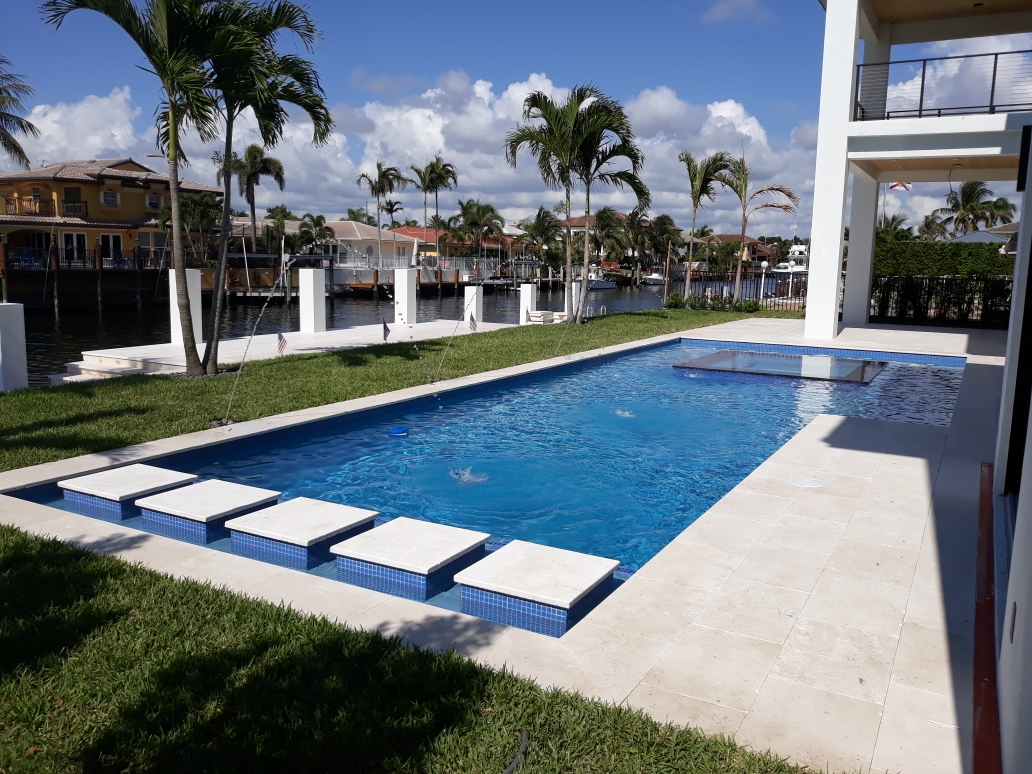 How To Choose the Right Spot For Your Pool
Choosing the best spot on the property is the most important step before we even begin to think about building. Construction can happen in any space, no matter the size. What is important is to keep in mind the natural surroundings and terrain configuration.
Terrain dictates the position and shape of the new pool or spa structure. Our designers come to the site and run an assessment of the property and all of the objects nearby in order to create the best possible design for the construction. We always suggest to our clients that the design follow the surroundings so that the pool looks like a natural part of the property while standing out with superb design.
Pool and Spa Shapes
Our pool and spa shape construction includes a variety of options that adhere to the property dimensions and backyard design. Our swimming pool designs include geometric, free-form and custom shapes. Some of the most popular pool shapes are traditional rectangle, Grecian, L shape, oval, kidney-shaped, angled and custom made shapes. Free-form shapes are also a popular option with our clients and they include mountain lake and lagoon style pool shapes. Spa shapes include octagon, round and square, with seat and steps. All spa shapes can be made to be connected or separate from the pool.

Swimming Pool vs Spa
Swimming pools offer a great space for recreation and exercise for the whole family. Perfect for cooling off during hot summer days and nights, a pool is larger than a spa, which makes it a great center piece for any party. Pools are a simple yet amazing place for having fun with the whole family and making great memories with loved ones.
A spa offers a relaxing and tranquil spot at the end of a long day. Opposite to the cooling effects of the pool, heating elements in the spa make for a therapeutic experience. They are also perfect for outdoor use during the colder months when pools are inaccessible. A custom spa is more suited for leisure and relaxation and can be built to accommodate up to 10 people at the same time.
Our clients often choose a combination of both swimming pool and spa in one cohesive structure. After we discuss the client's goals and define all of the requirements, we continue with the preparation of terrain and surroundings where the new pool will be built.
Step by Step Pool Construction Process
Ground Excavation
Every pool construction starts with ground excavation. Heavy equipment is always used for this process and usually it doesn't take long to complete operations to continue to the next phase. By using heavy machinery, such as excavators and bulldozers, we are able to perform the excavation in just one day. Of course, the size of the pool to be constructed can vary the time it takes for us to complete ground preparation.
Structural Steel
After all the ground work is complete and the terrain is prepared, we continue by laying steel rebar that will provide support for the concrete walls and floor. Rebar is bent to conform to the shape of the pool while also accounting for structural stability. In this way, our pools have the best possible strength and durability. This is the standard guarantee for the longevity of every pool we make.
Plumbing
Plumbing is a vital part of the internal components and is essential for proper function of any swimming pool or spa. We use the highest quality components in order to ensure the best ratio of efficiency and operational quality. The PVC plumbing parts that we use are optimal for use in swimming pools and spas. This ensures that there is no unnecessary water use and that the pool works at maximum efficiency.
Shotcrete
This is the process of applying concrete mass to the pool walls and floor using the high-pressure particle dispersion system. This method allows for higher quality and durability while also allowing custom design of the shape and size of the spa or pool. Our engineers and builders follow strict industrial standards for all of our construction work.
Tile and Coping Installation
When the concrete operation phase is complete, work on tiling and coping can begin. Clients can choose from a great selection of tile designs that will meet their every expectation. Tiles and insets will then be positioned along the pool's contours and edges to add a touch of class and designer element.
Pool Decking
We offer an unlimited selection of decking material that meets all of our clients' requirements regarding color, texture and price. Our designers help clients make the best choice so that their pools are unique and beautiful. By choosing the right decking, the pool can stand out against or conform to the surrounding area of the property.
Pool Equipment
Following industry standards, we install only certified, high-quality equipment. Efficiency and quality are top priorities, and thus, all components we install provide the best value while still being the best on the market. We offer automation equipment, multi-speed pumps, LED efficient lights, filters and all available accessories for pools and spas.
Plaster and Fill
We offer a wide choice of quality plaster fills and finishes. Customers can choose Diamond Brite, Pebble Tec, and many others, as well as select from a variety of standard color plaster finishes and fills.
Safety and Maintenance
Safety and proper maintenance are the most important aspects of having swimming pools on your property. For families with children and pets, a pool cover is a must-have accessory. We also offer automated pool covers for ease of use. We provide all of the necessary maintenance accessories for keeping your pools and spas in perfect condition.
We are the leading swimming pools and spas builders in the Broward and Palm Beach County area. We can offer you our experienced service and performance and proud ourselves with high ratings and customer satisfaction.
| | |
| --- | --- |
| Monday | 8.00am – 5:00pm |
| Tuesday | 8.00am – 5:00pm |
| Wednesday | 8.00am – 5:00pm |
| Thursday | 8.00am – 5:00pm |
| Friday | 8.00am – 5:00pm |
| Saturday | Closed |
| Sunday | Closed |