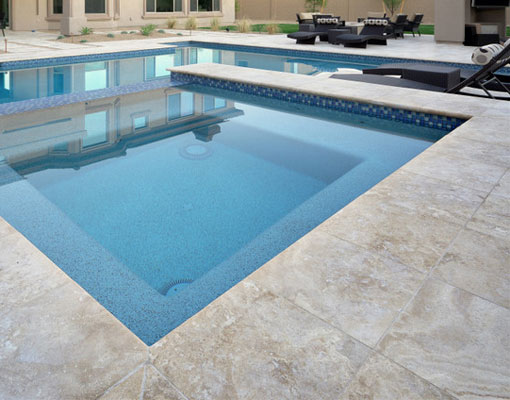 Travertine
Travertine is among the most popular materials used for building luxury pool decks. Since the ancient times, this material was respected for its beauty and hard-wearing. Nowadays, the demand for this material hasn't gotten any lower. Travertine has a pervious nature, and it remains cool to the touch, which is why the pool builders of today successfully utilize it.
Travertine absorbs water almost instantly, which makes the decks made out of it slip-free. Besides its slip-free properties, this material handles all types of weather conditions.
Travertine can often be found in one of the three finishes:
– tumbled (textured and porous)
– honed (matte and smooth)
– polished (smooth and shiny)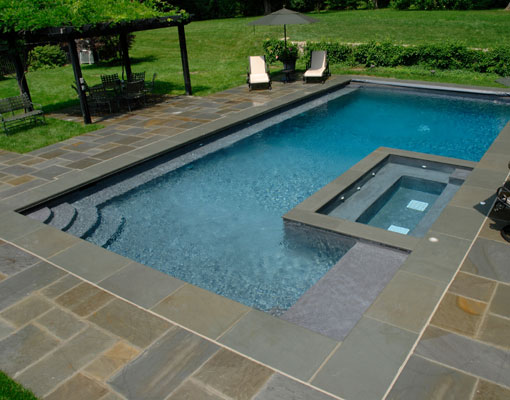 Flagstone
When it comes to pool deck material, flagstone is frequently used. The beauty of this material stems from its earth-tone colors and textures, but the aesthetics aren't the only positive side of using it as a pool deck material.
Flagstone is famous for its non-slip properties, moisture resistance, and heat resistance. Another important property of this material is that it can withstand constant use. If you require a material which can last for years, can be easily installed and comes in many different shapes and sizes, flagstone might be exactly what you are looking for.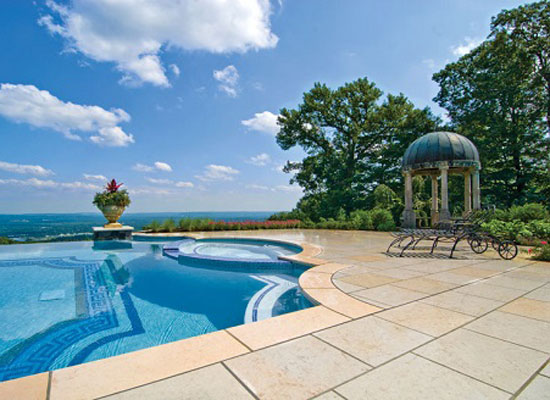 Limestone
Many pool designers use limestone as a go-to building material because it is robust and it remains beautiful for a long time. This material is not only used in deck construction, but also for pool coping due to its beauty.
Limestone is known for its durability, it can hold up against constant use, and it can tolerate great weather changes. This material comes in many beautiful colors including blue, tan, pink, brown, gray, and more. It can be cut in different shapes and sizes, which makes it easy to use for decking.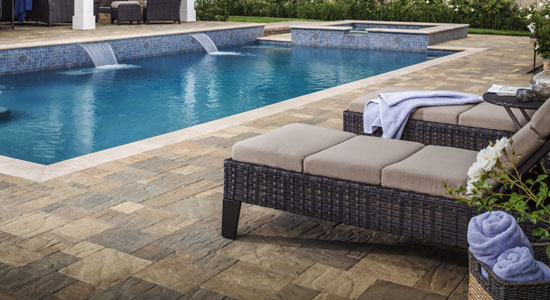 Slate
Builders have been using slate for centuries. This material is a type of flagstone that is hefty and strong, yet easy to install. It can be sliced in any way to suit your needs and wishes.
Slate comes in a wide range of eye-catching colors: brown, red, dark black, purple, green, rust, and more. If your luxurious pool has a natural setting, then this material might be the one you should use.
You can also use slate in traditional spaces without any problems. This material looks great, it is highly customizable and fits into a wide variety of pool spaces.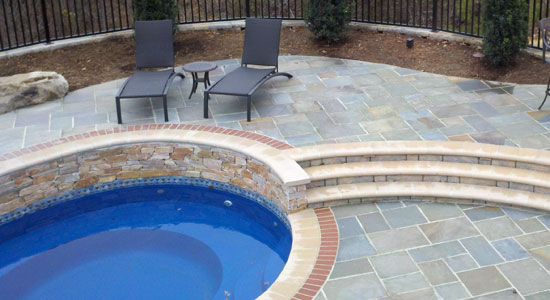 Bluestone
Bluestone is one of the best choices for outdoor use. It boasts non-slip and water-resistant properties, and it is also hardwearing. If your outdoor pool is surrounded by natural beauty, you should consider using bluestone for decking.
The most common color of this material is blue-gray, which gives it a classy, yet down-to-earth look. Bluestone is usually finished in one of the three ways:
– thermal (gives a uniform texture)
– honed (gives a smooth appearance)
– natural cleft (gives a non-uniform texture)
If you are looking for a material that is water-resistant and slip-resistant, you should consider bluestone.
Sandstone
Sandstone is frequently used because it is hard-wearing and because it can easily be used when designing pool decks without an extreme color range.
This building material is usually red or light brown, which makes it a perfect choice for pools that have lively colors and textures. The sandstone isn't the best stone for use around pools treated with salt chlorination, so be sure that it is protected with a premium anti-salt sealant.
If you require color consistency and material that can stand up to an exceptional amount of wear, you should consider sandstone.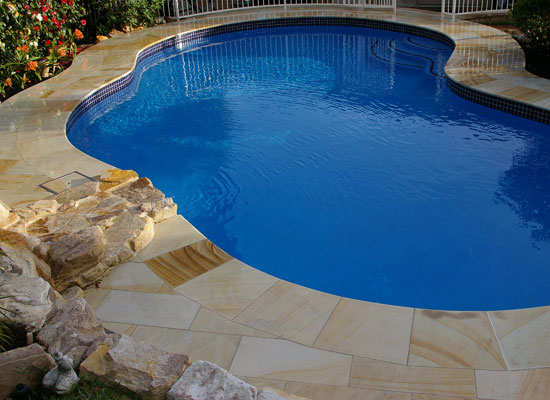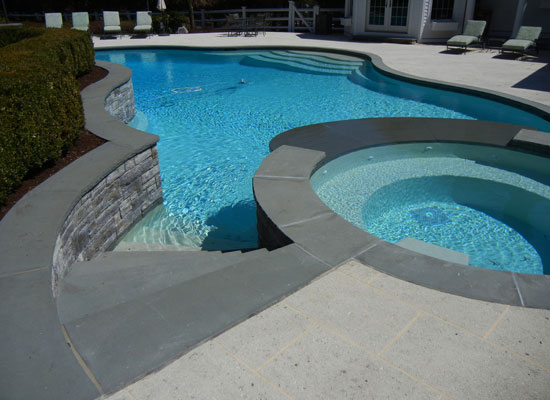 Granite
Granite is well-known for its hardness – it is one of the hardest stones found in nature. When pool designers want to create something that will last for a long time, they often use granite.
This material is primarily made of quartz. It is commonly dark, repels water, and holds a shine. One of the reasons why this building material is often used is the fact that it fits a large variety of designs. Granite is used for pools in a natural setting, as well as for pools in an elegant setting.
If you want a consistent look for your pool deck, and if you want a material that lasts for a long time, consider using granite.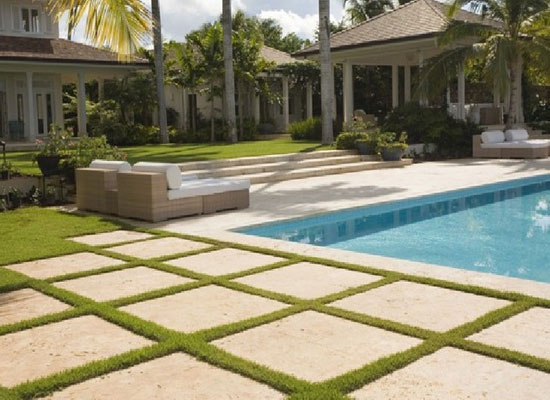 Coral Stone
Coral stone is easily recognized due to its beauty. It consists of shell and coral fossils, sand, and limestone. Nature strengthens this material and provides it with its non-slip properties.
Coral stone absorbs a tiny amount of heat, and the maintenance is a breeze. It is often used in the tropics, but it can also be used in places with a colder climate.
If you are looking for a material that can resist pool chemicals, salt water, heavy foot traffic, and extreme climates – you should check out limestone.
We are the leading swimming pools and spas builders in the Broward and Palm Beach County area. We can offer you our experienced service and performance and proud ourselves with high ratings and customer satisfaction.
| | |
| --- | --- |
| Monday | 8.00am – 5:00pm |
| Tuesday | 8.00am – 5:00pm |
| Wednesday | 8.00am – 5:00pm |
| Thursday | 8.00am – 5:00pm |
| Friday | 8.00am – 5:00pm |
| Saturday | Closed |
| Sunday | Closed |