If you have an outdoor pool, the next logical step would be to add a kitchen next to it. The best way to enjoy food is to eat it outdoors in the comfort of your backyard with a group of friends and loved ones. Food is the staple of life and an outdoor kitchen is the perfect way to bring it to your backyard.
Outdoor kitchens can be small spaces with a built-in grill, or large, fully equipped kitchens with sinks, bars, countertops, grills, storage cabinets and everything in between.
When deciding on the type and style of outdoor kitchen you want, you should consider the number of people you would like to accommodate, your entertainment needs and your budget. Below, we have provided a few ideas you should consider before adding a kitchen to your pool area.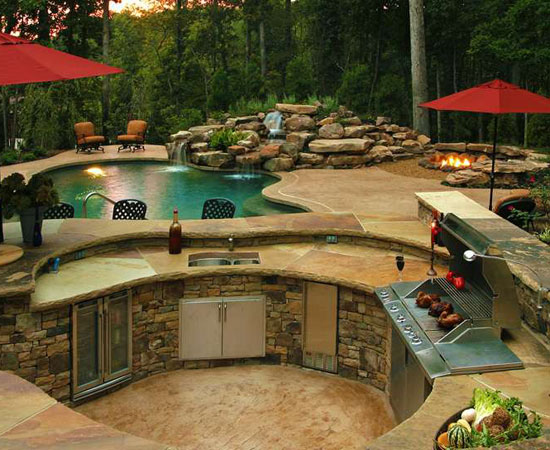 Poolside Bar
If you are not keen on cooking, but you would like an area near your pool where you can grab a few drinks, you should consider adding a pool-side bar to your pool. It doesn't have to be big, but it can be if you are so inclined.
You should think about placing the bar as close as possible to the pool because that way people can enjoy a refreshing drink without having to leave the cool water. Since you won't be spending any money on grills, you should consider adding a TV to the bar – this way your pool becomes the center of entertainment.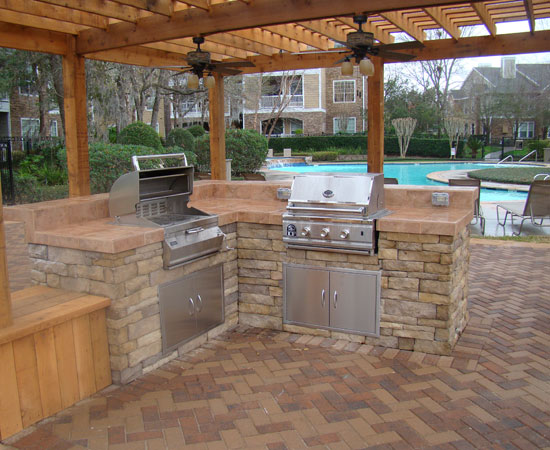 Covered Patio Kitchen
There are times when we want to relax by the pool without getting too much sun. If you have a pergola, pavilion, or a gazebo, you should consider adding a kitchen to it. The size of the kitchen depends on the size of the covered patio. If you have a large patio, you can go all out and build a large kitchen stocked with the latest appliances.
Our advice is to add sinks, a refrigerator, an icemaker, countertops, a grill, television, and a sound system. This way you will have everything needed to prepare drinks and meals, but you will also have entertainment options. Don't forget that a drainage system is a must!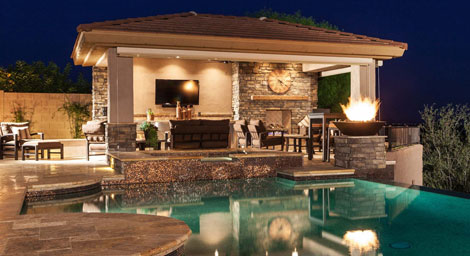 Outdoor Room Patio
Outdoor room patios are great if you like comfort and convenience. There is nothing better than being able to sit down in an armchair and enjoy a freshly-prepared meal. You can even add couches and ottomans to your outdoor room patio.
One of the main reasons why we love outdoor room patio kitchens is the fact that they are very cozy. You should add a large table if you want to accommodate a lot of friends and family members. Deep seating patio furniture is a must because the goal of an outdoor room is to make it feel like the best of both worlds – the indoor and the outdoor. You can even add rugs to your patio if it makes you feel cozy.
Your outdoor kitchen should provide food and drinks, which is why you should invest in a refrigerator, a grill, an ice maker, sinks, counter tops, a pizza oven, and more. Think about whom you will be accommodating, and the ideas will start flowing on their own.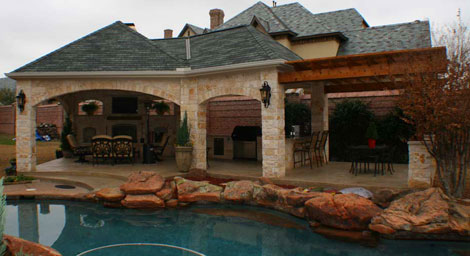 Backyard Retreat
We have saved the best for last – the ultimate in poolside kitchens, a backyard retreat. If you are thinking about turning your poolside into an all-encompassing center of entertainment, then a backyard retreat is a good idea, provided that you have enough free space.
The most important thing to consider is how many people you would like to gather near your pool. If you want an elaborate place for large parties, you can turn your backyard into a large retreat. You should create multiple seating areas, and you should think about a lounge area. A bar is a must, and so is the kitchen. Your kitchen needs to be able to provide food for a large number of people, which is why you should consider purchasing multiple ovens, grills, sinks, refrigerators, etc.
Your poolside should be able to house a large number of guests, so don't be afraid to go all out. Your kitchen should be modern, so be sure to provide plenty of entertainment for the guests – a TV and a high fidelity sound system are a must!
We are the leading swimming pools and spas builders in the Broward and Palm Beach County area. We can offer you our experienced service and performance and proud ourselves with high ratings and customer satisfaction.
| | |
| --- | --- |
| Monday | 8.00am – 5:00pm |
| Tuesday | 8.00am – 5:00pm |
| Wednesday | 8.00am – 5:00pm |
| Thursday | 8.00am – 5:00pm |
| Friday | 8.00am – 5:00pm |
| Saturday | Closed |
| Sunday | Closed |